Annual Orchid & Garden Show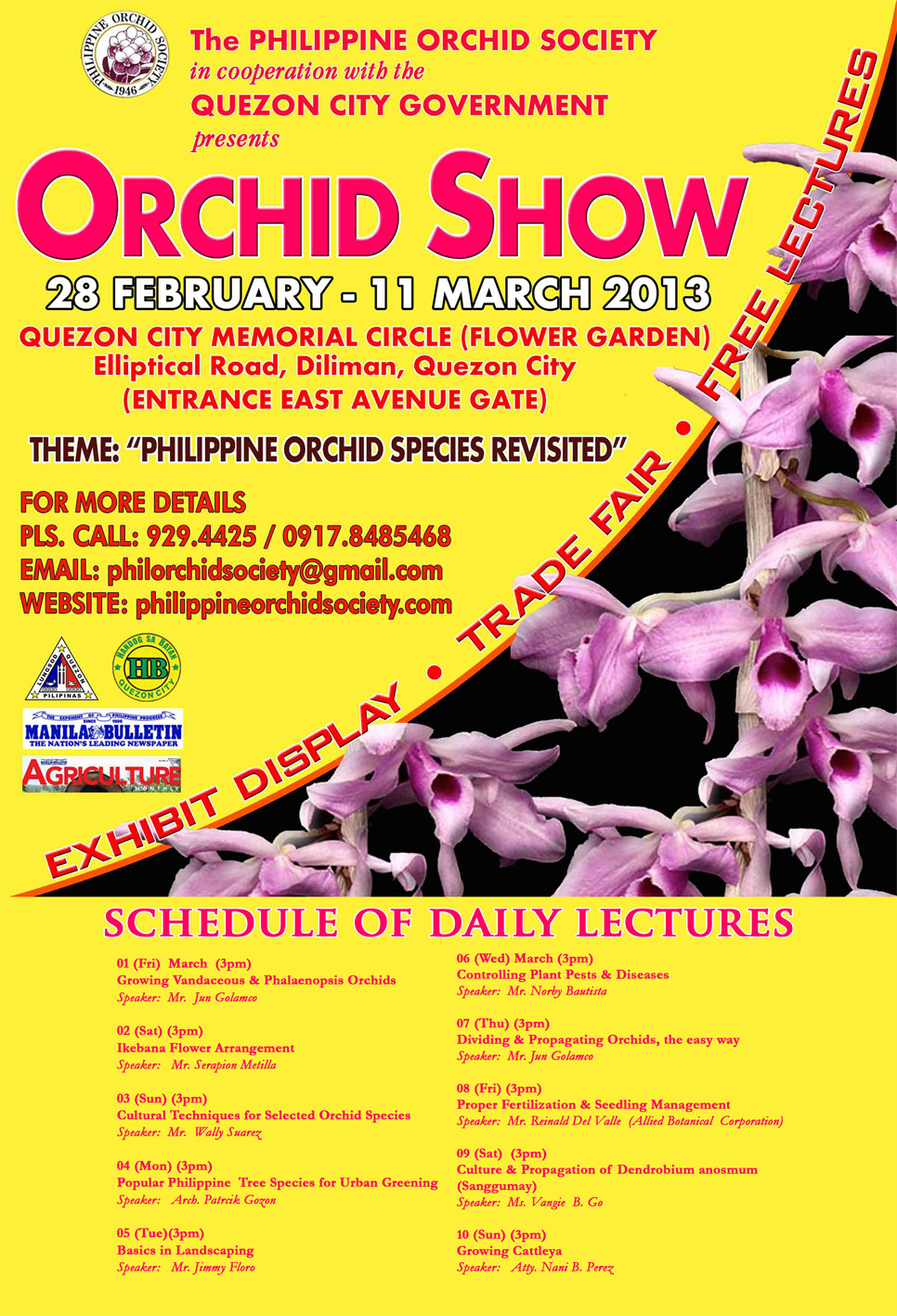 Mabuhay and warm greetings from the world of orchids and horticulture!
Greetings! The Philippine Orchid Society in cooperation with the Quezon City Government will be holding its 67th Annual Orchid & Garden Show at the Quezon Memorial Circle, Hardin ng mga Bulaklak Area (Flower Garden) (Entrance East Avenue Gate) Elliptical Road, Diliman, Quezon City on28 February – 11 March 2013. This year's show theme: "Philippine Orchid Species Revisited".
The show features floral and plant displays/competition exhibits, daily lectures and commercial bazaar that is expected to attract 50,000 visitors during its run. Horticultural and landscape practitioners, hobbyists, artists, entrepreneurs, academicians, students, media, and plant societies are expected to participate in and attend the show.
This momentous event is also seen to boost current efforts to showcase the strong potential of our local horticulture industry.
 Entrance fee is only PhP30.00 for adults and PhP20.00 for students and senior citizens with valid ID. Group discounts will also be available.
Highlights of the Orchid and Garden Show:
National orchid competition on Best in Philippine orchid species, Best Foreign Orchid Species, Best Philippine hybrids, Best Dendrobium, Best Cattleya , Best Vanda , Best Oncidium, Best in orchid culture, Best in Orchid Landscape and other special awards.
Floral and plant displays will feature rare coveted orchids and ornamental plants.
Free daily lectures and demonstrations on various orchid topics and other horticultural topics from experts, industry practitioners, plant owners, government agencies, award winning landscaper, plant entrepreneur, health and wellness, artists and respected agricultural experts.
There will be free daily lectures covering the following topics at 3pm:
01 (Fri) Mar. (3pm)                         
Growing Vandaceous & Phalaenopsis Orchids
Speaker: Mr. Jun Golamco
02 (Sat) (3pm)                     
Ikebana Flower Arrangement
Speaker:   Mr. Serapion Metilla
03 (Sun) (3pm)   
Cultural Techniques for Selected Orchid Species
Speaker: Mr. Wally Suarez
04 (Mon) (3pm)                  
Popular Philippine Tree Species for Urban Greening
Speaker:   Arch. Patrcik Gozon
05 (Tue)(3pm)                    
Basics in Landscaping
Speaker:   Mr. Jimmy Floro
06 (Wed)(3pm)                   
Controlling Plant Pests & Diseases
Speaker: Mr. Norby Bautista
07 (Thu) (3pm)                   
Dividing & Propagating Orchids, the easy way
Speaker: Mr. Jun Golamco
08 (Fri) (3pm)                     
Proper Fertilization & Seedling Management
Speaker: Mr. Reinald Del Valle (Allied Botanical Corporation)
09 (Sat) (3pm)                 
Culture & Propagation of Dendrobium anosmum (Sanggumay)
Speaker: Ms. Vangie Go
10 (Sun) (3pm)                    
Growing Cattleya
Speaker: Atty. Nani B. Perez
Come and Visit our show! For more information, you can contact at mobile phone (0917)848-5468; Telefax (02)929-4425; visit our website: www.philippineorchidsociety.com or e-mail/facebook atphilorchidsociety@gmail.com .