Mid-Year Orchid & Garden Show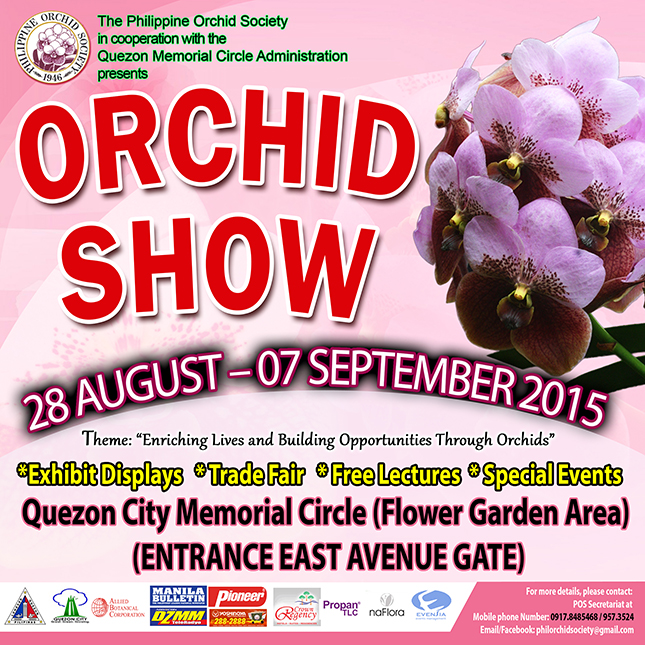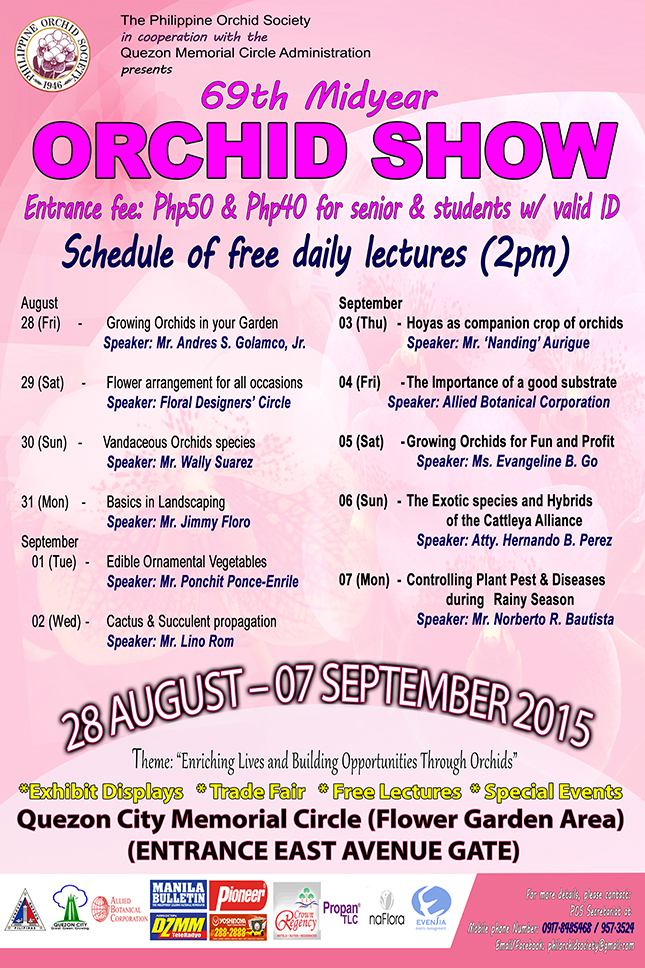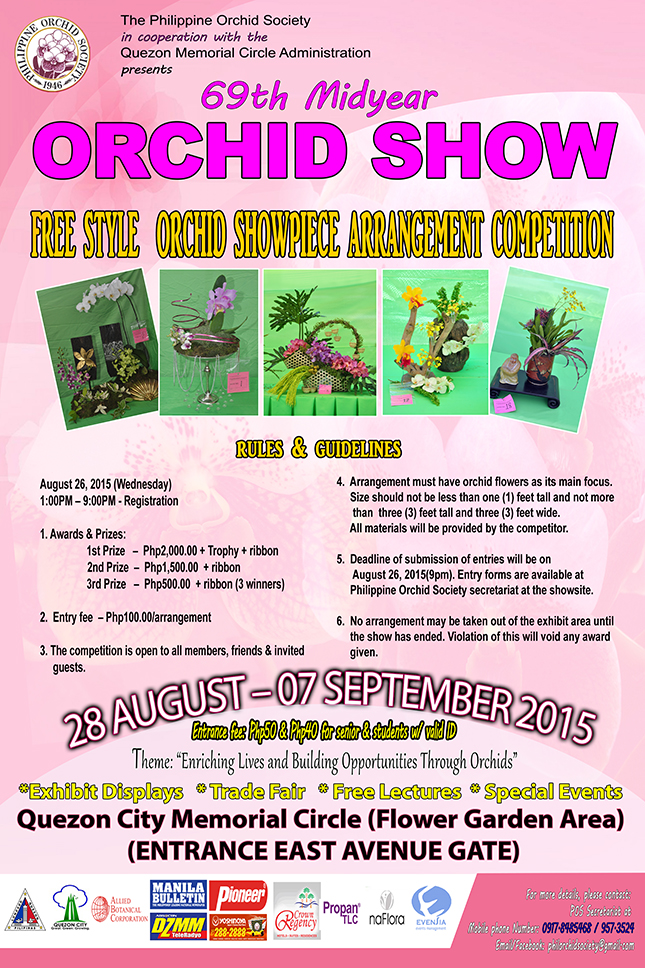 The months of August and September are the blooming season of the world famous 'Waling- Waling'. Scientifically known as Vanda sanderiana, the 'waling- waling' is renowned world wide as the 'Queen of all Orchids' because it has greatly influenced the breeding of modern day orchids that are very popular in the orchid cut-flower and potted orchid trade. It is a Philippine endemic species that is responsible for giving the large saucer size blooms to its off springs. And, because of this very desirable trait, the 'waling- waling' has been heavily gathered from the wild and is now considered critically threatened.
Fortunately the Philippine Orchid Society (POS), through the participation of its members, has undergone efforts in conserving and propagating this endangered orchid that many still exist to this day.
In celebration of its 69th Anniversary this coming August 28 to September 07, 2015, the POS will be showing off the lovely blooms of the 'Queen of all Orchids' in its Mid-year Orchid and Garden Show dubbed as 'Enriching Lives and Building Opportunities Through Orchids".
This show, which is being held in cooperation with the Quezon City Government will be held at the Flower Garden of the Quezon Memorial Circle, Elliptical road in Quezon City. Together with the sought after 'waling-waling', the show will feature the best orchid collections of the country's best orchid growers set in exquisite landscapes. Daily lectures on orchid and plant culture will be held daily for free and a plant bazaar selling orchids, ornamentals, bonsai, fertilizers, pots and many more at farm gate prices will be on site.
There will be a free daily lecture at 2pm, topics follows: August 28 (Fri) Growing Orchids in your Garden by Mr. Andres S. Golamco, Jr.; 29 (Sat) Flower arrangement for all occasions Speaker: to be announced; 30 (Sun) Vandaceous Orchids species by Mr. Wally Suarez;  31 (Mon) Basics in Landscaping by Mr. Jimmy Floro; September 01 (Tue) Edible Ornamental Vegetables by Mr. Ponchit Ponce-Enrile;  02 (Wed) Cactus & Succulent propagation by Mr. Lino Rom; 03 (Thu) Hoyas as companion crop of orchids by Mr. Fernando 'Nanding' Aurigue;  04 (Fri) The Importance of a good substrate by: Allied Botanical Corporation; 05 (Sat) Growing Orchids for Fun and Profit by Ms. Evangeline B. Go; 06 (Sun) The Exotic species and Hybrids of the Cattleya Alliance by Atty. Hernando B. Perez;  07 (Mon) Controlling Plant Pest & Diseases during Rainy Season by Mr. Norberto R. Bautista.
Show entrance is Php50.00 and Php40.00 for students & senior citizens with freebies and it opens from 8:00am – 6:00pm daily. For more information you may call the POS Secretariat at mobile numbers 957.3524 or 09178485468 (look for Ms. Jenny F. Rivera or Mr. Jiffy A. Alegre)